The following is a partial list of athletes who left us during 2008. Most names are recognizable, and some are not. All of these came from the world of baseball. They will be missed.
January
Gerry Staley, 87
- All-star pitcher who compiled a 134-111 record from 1947-'61 with the St. Louis Cardinals, Cincinnati Reds, New York Yankees and Chicago White Sox.
Johnny Podres, 75
- Left-hander who compiled a 148-116 record in 15 seasons with the Brooklyn and Los Angeles Dodgers, Detroit Tigers and San Diego Padres from 1954-'69.
Don Cardwell, 72
- Pitcher who had a 102-138 record for five major-league teams from 1957-'70. Traded from Philadelphia to the Chicago Cubs in May 1960 and pitched no-hitter against St. Louis two days after the deal. Was traded to the Cardinals in '62 and sent to Pittsburgh a month later without ever pitching for St. Louis.
Steve Ridzik, 78
- Pitcher who was a member of the "Whiz Kids" Philadelphia Phillies that went to the World Series in 1950. Signed as a prospect by the Phillies when he was 16, won 39 games and had a lifetime 3.79 earned run average.
John McHale Sr., 86
- Longtime baseball executive who served as the general manager of the Milwaukee Braves starting in 1959 and oversaw their relocation to Atlanta in '66. Also was a Montreal Expos executive for 23 seasons, including 18 as GM, and served one year as GM of the Detroit Tigers, for whom he played sparingly for five seasons.
FEBRUARY
Ed Vargo, 79
- National League umpire from 1960-'83 who worked the '65, '71, '78 and '83 World Series and four All-Star Games. Was behind the plate when Hank Aaron tied Babe Ruth's career home run mark. Also is the only major-league umpire to call a no-hitter and a perfect game for the same pitcher: Sandy Koufax's no-hitter on June 4, 1964, and his perfect game on Sept. 9, 1965.
Bob Howsam, 89
- Influential in two sports, he co-founded the Denver Broncos in 1959 and helped found the American Football League that same year. Became general manager of the St. Louis Cardinals in their '64 World Series championship season.
Bob Purkey, 78
- Pitcher who appeared in three All-Star Games and one World Series with the Cincinnati Reds. Compiled a 129-115 record with a 3.79 earned run average in 13 seasons with the Pittsburgh Pirates, Reds and St. Louis Cardinals, last appearing in a game in 1966.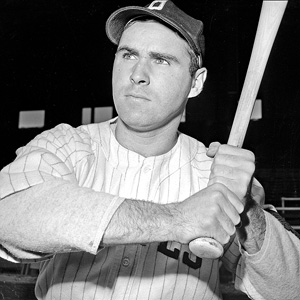 Tommy Holmes, 91
- Outfielder and two-time all-star who hit in 37 consecutive games in 1945 to set a modern National League record that stood until it was broken by Pete Rose in '78.
MAY
Buzzy Bavasi, 93
- Executive with the Dodgers who helped build teams that won four World Series titles in Brooklyn and Los Angeles, acquiring such players as Hall of Famers Jackie Robinson, Duke Snider, Pee Wee Reese, Roy Campanella, Sandy Koufax and Don Drysdale.
Herbert H. Hash, 97
- Pitched two seasons for the Boston Red Sox, compiling an 8-7 record with a 4.98 ERA in 38 appearances, including 12 starts, in 1940 and '41. Was oldest former Red Sox pitcher at time of his death.
JUNE
Johnny Buzhardt, 71
- Pitched in the major leagues from 1958-'68, compiling a 71-96 record with a 3.66 earned run average with the Chicago Cubs, Philadelphia, the Chicago White Sox, Baltimore and Houston.
Bert Shepard, 87
- World War II fighter pilot who lost his right leg when he was shot down over Germany but went on to pitch for the 1945 Washington Senators, becoming an inspiration for grievously wounded veterans. When he made his only major-league appearance on Aug. 4, 1945, the left-hander was still a lieutenant in the Army Air Forces, commuting to the ballpark from Walter Reed Army Hospital. Summoned from the bullpen against the Boston Red Sox in the fourth inning with the Senators trailing, 14-2, he pitched 5 1/3 innings and gave up one run and three hits. Pitched in the minor leagues for several years after the war and later won the national amputee golf championship in '68 and '71.
Bobby Murcer, 62
- Infielder turned outfielder who made his major-league debut at age 19 in 1965 with the New York Yankees, and was hyped as the heir apparent to the legendary Mickey Mantle. Later became a broadcaster with the Yankees.
Dave Ricketts, 73
- Longtime St. Louis Cardinals coach who first was a reserve catcher with the team in 1963, '65 and from '67-69. Traded to the Pittsburgh Pirates in '70, his final season in the majors.
Red Foley, 79
- New York baseball writer who spent 36 years as an official scorer. Starting in 1966, he scored more than 3,000 major-league games, including 10 World Series.
Jerome Holtzman, 82
- Chicago baseball writer who made the Hall of Fame, created the saves rule and later became Major League Baseball's official historian. Won the J.G. Spinks Award and a spot in the Hall of Fame in 1989.
Chuck Stobbs, 79
- Pitcher who gave up Mickey Mantle's 565-foot home run while pitching for Washington in 1953. That shot is credited with being the longest homer ever hit even as some later questioned the measurement. Had career record of 107-130 with an ERA of 4.29 with the Red Sox, White Sox, Senators, Cubs and Twins from '47-'61.
AUGUST
Skip Caray, 68
- Atlanta Braves broadcaster for 33 seasons and the son of the late Harry Caray, legendary announcer for the Chicago Cubs and White Sox and St. Louis Cardinals.
Dottie Collins, 84
- A star pitcher in women's professional baseball in the 1940s. Pitching for six seasons in the All-American Girls Professional Baseball League. In the summer of '48, she pitched until she was four months pregnant. She won more than 20 games in each of her first four seasons. She threw 17 shutouts and had a league-leading 293 strikeouts in '45 for the Fort Wayne Daisies.
SEPTEMBER
Don Gutteridge, 96
- Manager of the Chicago White Sox in 1969 and '70. Played 12 seasons in the majors, beginning in September 1936 with the St. Louis Cardinals. Playing second and third base, also played with the St. Louis Browns, Pittsburgh Pirates and Boston Red Sox, batting .256 with 39 home runs and 391 RBI.
Joe Lutz, 83
– Played with the St. Louis Browns in 1951 and coached the Cleveland Indians from 1971 to 1973 and was the first Caucasian manager of a major league baseball team in Japan.
NOVEMBER
Elwin Charles "Preacher" Roe, 92 -
Cunning left-handed pitcher best known as a member of the "Boys of Summer" Brooklyn Dodgers teams of the late 1940s and early '50s. Went 127-84 in a 12-year career with the Dodgers, Pittsburgh and St. Louis. Best year came in '51, when he was 22-3 for the Dodgers, setting a team record that still stands for the highest winning percentage for a 20-game winner.
Herb Score, 75
- Cleveland Indians pitcher and former broadcaster whose promise on the
mound was shattered by a line drive when Gil McDougald of the New York Yankees lined a ball off Score's right eye, breaking his nose and a number of bones in his face. Hard-throwing left-hander pitched for the Indians from 1955-'59 and rookie of the year in '55 after going 16-10.
DECEMBER
Dock Ellis, 63
- Former major-league pitcher who spent 12 years in the majors with Pittsburgh, the New York Yankees, Oakland, Texas and the New York Mets. Best remembered for his flamboyance and social